Producers of water and beverages "Act with imPETus"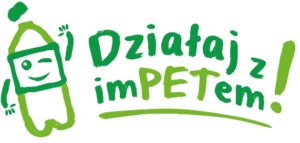 May 14, 2018
The four producers of water and beverages: Coca-Cola HBC Polska Sp. z o.o., Nestlé Polska S.A. Oddział Nestlé Waters, Pepsi-Cola General Bottlers Poland Sp. z o.o. and Żywiec Zdrój S.A. launched a pioneering project above divisions called "Act with imPETus!". Its aim is to increase the amount of collected and recycled PET bottles. The initiative includes educational efforts and is run by Rekopol Organizacja Odzysku Opakowań S.A.
Annually Poles use up approximately 650 000 tons of plastic packaging[1]. 30 % of them (200 000 tons) are PET bottles which are commonly used in households. Only 80 000 tons of PET bottles are recycled. The rest is either send to landfills or burned down. PET is an excellent recyclable material. If managed correctly it can gain a second life as a new packaging (so-called rPET) or it can be used in textile or furniture industry.
The four leading producers of water and beverages in PET bottles:  Coca-Cola HBC Polska Sp. z o.o., Nestlé Polska S.A. Oddział Nestlé Waters, Pepsi-Cola General Bottlers Poland Sp. z o.o. and Żywiec Zdrój S.A., fulfilling their voluntary environmental commitment, initiated  "Act with imPETus" project. Its aim is to increase recovery and recycling of this type of packaging. This endeavor is organized and coordinated by Rekopol Organizacja Odzysku Opakowań S.A. Rekopol partners in this action are the municipal waste management entities. The project will be realized by among other things educational efforts run in the chosen locations around the country. As a result its initiators will ensure recovery and recycling of plastic packaging placed on the Polish market on a level which exceeds their legal obligation.
This is the first endeavor of this type in Poland. In 2018 the project will have experimental character. We will test different types of educational efforts – says Jakub Tyczkowski, the President of Rekopol Organizacja Odzysku Opakowań S.A Management Board –  In 2018 we strive to increase, in Rekopol's system, the amount of collected and recycled PET bottles by approximately 35%. That's over 10 % of national collection. Our efforts will result in the increase of recycling of this type of packaging in Poland.
How do we segregate?
According to vox pop and the internet survey (total 331 participants), conducted by the order of Rekopol, the majority of interviewees segregates PET bottles (this answer was indicated by 51% of answerers)[2]. However, it's equally important to correctly prepare the waste to throw away. Crumpling the bottle allows to save 80% of space in a bin or trash bag. Thanks to it, it's possible to limit the frequency of waste collection which results in less carbon dioxide emission and reduction of fuel consumption.
Producers Act with imPETus!
The initiators of "Act with imPETus" project will among other things encourage residents to crumple and empty packaging. The aim of educational efforts is to spread among society the correct rules of PET bottles segregation so they can get a second life instead of being burned in household furnace, which pollutes the atmosphere.
Krzysztof Baczyński, Regulatory Manager of Coca‑Cola HBC Polska Sp. z o.o. emphases that: The correct management of packaging waste and its recycling is one of the key elements of Coca-Cola HBC Group Sustainable Development Strategy. In 2016 the Group made the commitment to recycle, by 2020, on average 40 % of all packaging placed on the market. The additional collection and recycling of PET bottles in Poland is a part of it. PET is a valuable raw material. We want it to be reused on much larger scale in packaging or other products instead of being send to landfills or incineration plants.
Artur Młotek, Supply Chain Director of Nestlé Polska S.A. Oddział Nestlé Waters says: Our imperative is to enhance the quality of life and to strive towards better future. We fulfill it by among other things our efforts for natural environmental protection. In Nestlé, we plan by 2025 to introduce packaging which will be fully recyclable or reusable. We actively educate people about recycling because we don't want PET bottles to end up on landfill or in household heating installation. As a socially responsible company we're glad that we can participate in "Act with imPETus" project since we share with Rekopol Organizacja Odzysku Opakowań a common goal. We want to give a second life to as much PET bottles from households as possible. Our PET bottle is 100% recyclable, providing it will be send to a facility where it can be correctly processed.
Małgorzata Skonieczna, Corporate Communications Director of PepsiCo for Central Europe says: "PepsiCo company is a proud shareholder of Rekopol Organizacja Odzysku Opakowań S.A. and a participant of its pioneering program. PepsiCo operates on the basis of "Acting with a goal consciousness" philosophy and undertakes many efforts which allow to minimize its activity impact on natural environment. PepsiCo plans that by 2025 all of its product packaging around the world will be made from materials that can be recovered or recycled in 100%. We hope that "Act with imPETus" project, through extensive educational efforts, will engage many entities in an effective recovery and recycling of PET raw material in Poland.    
One of our mission goals is carying for nature. That's why we undertake many efforts in this area. An important part of it is a long-standing cooperation with Rekopol Organizacja Odzysku Opakowań S.A. –  says Edyta Krysiuk-Kowalczyk, Quality Assurance & Sustainability Director of Żywiec Zdrój S.A – The subject of packaging and its reuse is especially vital for us. That's why we've just introduced a special edition of 2 million bottles made, in 50%, from second raw materials. So Żywiec Zdrój company just couldn't  miss being a part "Act with imPETus!" project.
During the project, residents will find out about the benefits of a correct waste segregation and why it makes sense. The following educational materials were prepared: bookmark, flier and info graphics. They will be successively added to www.rekopol.pl/dzialajzimpetem and they will be available for download, free of chargé, and for use for the interested entities. Educational efforts will be run in chosen regions in cooperation with waste management entities.
For the second part of the year there is a plan for education efforts directed at schools. Their aim is to interest children in recycling. Shaping correct habits and attitudes at the young age results in greater ecological consciousness in future. Educational application "Act with imPETus" was designed for the youngest. It can be downloaded from Google Play now and from iStrore in June.
Thanks to the application the children will find out among other things to which container they should throw bottles into and how to correctly prepare them for segregation. They will also learn what can be made from recycled packaging.
imPETus – the project's mascot – appears on the project fanpage on Facebook  www.facebook.com.dzialajzimpetem  It relays educational content and encourages users to broaden their knowledge about waste segregation. The website also offers contests and eco-puzzles.
We invite you to Act with imPETus!
[1] Data from 2016, collected and analyzed by Rekopol Organizację Odzysku Opakowań S.A., based on reports of municipalities, waste managing entities and packaging recovery organisations.
[2] Research conducted on non-representative group of Poles in April 2018 in a form of internet survey (196 people) and vox pop (135 people) The presented results have only view character.