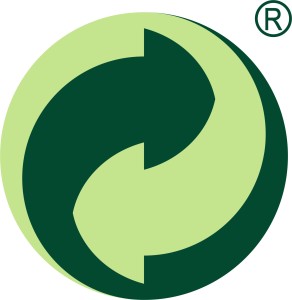 GREEN DOT (Der Grüne Punkt) is one of the trademarks used the most often and the most willingly by companies across the world.
WHAT DOES IT MEAN?
When it's featured on products packaging, it means that the producer provided financial support for building and functioning of the system of packaging waste recovery and recycling created by Rekopol Organizacja Odzysku Opakowań S.A. in Poland.
WHO MAY USE THE IMAGE OF THE RESERVED TRADEMARK GREEN POINT?
Every company to which we granted a licence for the use of the trademark in Poland. The basic condition of obtaining the licence is the fulfilment of the obligation to recover and recycle packaging waste in accordance with applicable legal regulations.
Green Point – reserved trademark owned by Der Grune Punkt – Duales System Deutschland (DSD).
Packaging Recovery Organisation Europe s.p.r.l. (PRO EUROPE) manages this trademark on behalf of its owner. In Poland Rekopol is the exclusive licensor of the trademark.
GREEN POINT:

Is the symbol of the company's responsible approach to the natural environment.

Positions the company as modern.

 Affects consumer choices.

 Helps the company operate on foreign markets.
We encourage companies to place the Green Point trademark on their packaging together with the ® symbol indicating a reserved trademark. This way not only the producer, but also the product will be better perceived by consumers.